Welcome to our nursery! Springtime at Fessler Nursery is a unique experience. You'll find a mix of good, old-fashioned quality and value! Where else can you find row upon row of gorgeous geraniums, hundreds of hanging baskets, and close to 100 different fuchsia varieties, all at grower-direct pricing? Come check out our wide variety and huge inventory of hanging baskets, geraniums, impatiens, petunias, numerous trailing plants, coleus, houseplants and much more—all at exceptional savings.
Our greenhouses are open to the public from April through June. We've been dedicated to growing quality annuals for our loyal customers for over 50 years. Many have long considered a trip to Fesslers an annual tradition. Come see why some consider us the best kept secret around … it's worth the drive!
Check out our "Tips for Navigating" on this page to enhance your shopping experience.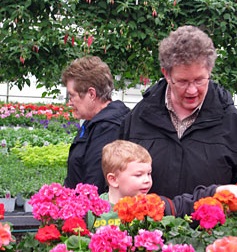 Tips For Navigating Fessler Nursery:
To carpool or not to carpool? That is the question. The answer all depends whether or not your friend/family member minds holding a flat or basket on their lap. Often our customers are quite enthusiastic shoppers and their purchases allow little space for additional car occupants. HOWEVER: Parking is very limited and if you come on a busy weekend, you may have to haul your loot quite a ways back to your car. And on busy weekends, carpooling is recommended.
Dress in layers. You will be shopping in a greenhouse. It can heat up pretty quickly when the sun is shining. Feel free to bring your own water or refreshments as needed.
Wagons are provided for your convenience. You will also find cardboard flats near the entrances of each greenhouse. On our busiest days, one wagon per customer please. If you fill it up (as is often the case), park it and put additional flats of plants near your wagon. There is usually a shortage of wagons on the weekends.
Checkout: We are old-fashioned at Fessler Nursery. There is no traditional check-out line. Our cashiers (wearing red shirts and aprons) come to you and your wagon load of plants. Let one of us know when you're finished shopping and we will add up your purchases. We cash you out of our aprons or if you prefer a credit card payment, we can accommodate that as well. Receipts are available upon request. We hope you find our system flexible and we know you won't miss those long lines at traditional retail nurseries.
Restrooms: Yes, we have them and although not glamorous, they have real plumbing. They are located behind (not inside) our blue work shed. Just ask if you need directions.
Designated Areas: Our seasonal retail greenhouses are open to the public. For your safety, please respect the off-limit areas.
Still have questions? Use the form to contact us.